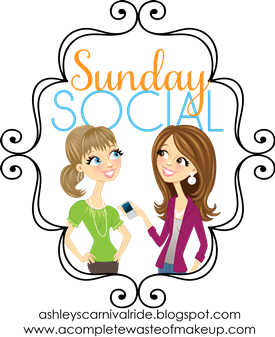 So today I am linking up with Neely over at A Complete Waste of Makeup for the Pinterest addition of Sunday Social!! I'll be honest I am Pincrazy just a little bit addicted to Pinterest!!
So lets get into the questions....
1. What is your favorite outfit pin?
Image credit: http://one-0f-these-days.blogspot.co.uk/
Ok so I couldn't choose just one I have way to many favorites on my Pinterest board!! I seriously LOVE fall fashion and just wrapping up warm I'm not a big fan of the cold but i think fall clothing is just so fun to put together. I am more of the simple kinda girl so jean, leather jacket & boots are my kind of outfit :)
2. What is your favorite food pin?
Image Credit: http://www.seededatthetable.com
Image Credit: http://sugarandspice-celeste.blogspot.co.uk
This is so freaking hard trying to just choose one I swear I have spent the last 30mins going between images deciding if I should choose one or the other lol
Whats not to love with the 2 pictures above Pizza in bite size pieces GOOD Cinnamon rolls GOOD!! (I feel a little like Joey from friends eating Rachel's messed up trifle lol)
3. What is your favorite wedding pin?
Image credit: http://razzi.me/albums/9447-ctfxc-wedding-photos
I don't think I have ever pinned a wedding pin onto a board so I thought why not go look in the wedding section and see what I like and one of the first pins that appeared was this CTFxC wedding picture. Im pretty sure Charles and Alli's wedding was the biggest wedding of the Internet world they have over 3 million view on their wedding video alone! I honestly loved the whole wedding but really liked this picture.
4. What is your favorite DIY/craft pin?
Umm how freaking cute is this?? making old bottles look great! I love this idea for nice little decorative flower holders.
5. What is your favorite quote/verse/lyric pin?
6. Share one more random pin you love.
Image credit: Tumblr
Image credit: http://www.houzz.com
Ok lets just all take a minute and think about how freaking adorable the Corgi is go on just a minute....ok so I am obsessed with Corgi's!! I really want one, only thing I think that is truly British in me I can own one just like Queenie hehe
The second picture because well I apparently cant follow instructions and just choose one now can I? I just love I want an office just like this love everything on the wall and the fairy lights :)
Well that's it for this weeks Sunday Social :)
I am now going to go pin like crazy again if you would like to follow me on Pinterest click here.